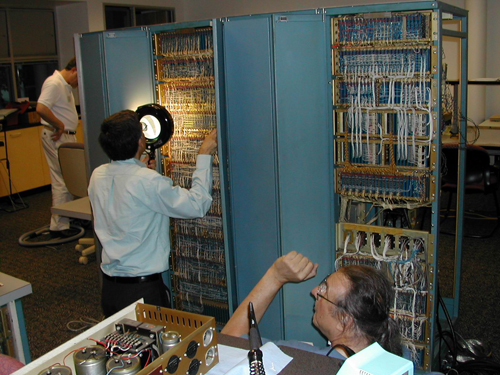 Title
Joe Fredrick and Lyle Bickely inspecting PDP-1 backplane as part of the PDP-1 restoration project
Description
This is a color digital image showing three men in the PDP-1 restoration room. The unidentified man on the far left of the image is standing looking down. Joe Fredrick, center, is looking through the magnifying glass and light at one of the PDP-1 circuit panels. Lyle Bickely, right, has his left hand clenched as if to throw something to the left. Several of the panels on the PDP-1 are open revealing the interior components.
Date
2004-05
Publisher
Computer History Museum
Place of Publication
Mountain View, Calif., U.S.
Dimensions
282 KB
Format
Electronic image
Category
Digital Image; Digital photograph; Identification photograph; Publicity photograph
Subject
Fredrick, Joe; PDP-1 (Computer); Bickley, Lyle; Digital Computer Corporation (DEC)
Credit
Created by the Computer History Museum PDP-1 restoration team