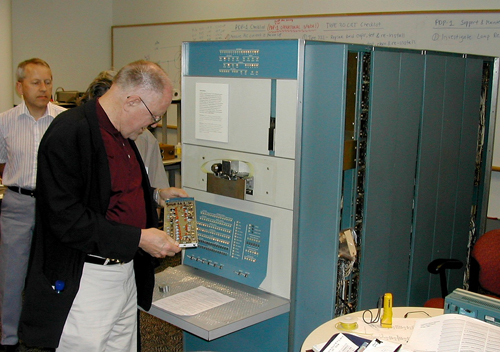 Title
Gordon Bell in front of the restored DEC PDP-1
Description
This is a color digital image of Gordon Bell visiting the PDP-1 restoration project and team. He is standing in front of the PDP-1 and holding a circuit board with both hands. The PDP-1 is powered on as noted by the lights on the console.
Date
2004-06
Publisher
Computer History Museum
Place of Publication
Mountain View, Calif., U.S.
Dimensions
344 KB
Format
Electronic image
Category
Digital Image; Digital photograph; Identification photograph; Publicity photograph
Subject
PDP-1 (Computer); Bell, Gordon; Digital Computer Corporation (DEC)
Credit
Created by the Computer History Museum PDP-1 restoration team