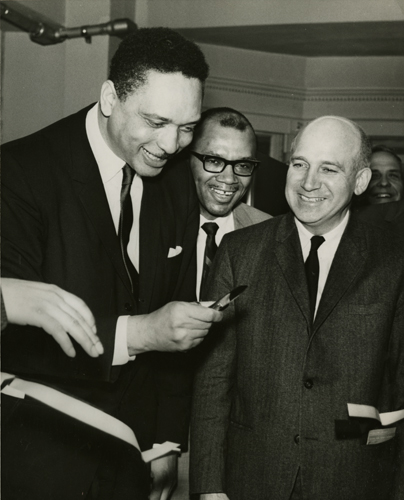 Title
J. Presper Eckert and Reverend Leon H. Sullivan at dedication of a Univac Solid State 80
Description
This is a black and white image of J. Presper Eckert, smiling, standing on the left and the Reverend Leon H. Sullivan standing on the right. Reverend Sullivan is smiling and is holding a scissor and has just cut the ribbon. According to OOC, the man in the center might be the Reverend Thomas J. Ritter. They are attending the dedication of a Univac Solid State 80 computer to the Philadelphia-based Opportunities Industrialization Center. Stamped on verso side is "Credit Line OK T. FRANKLIN COMMERCIAL PORTRAITS FASHION 2443 N. 26TH STREET BAldwin [sic] 9-1603 PHILA. 32, PA."
Written in pencil on small white round label on original protective sleeve is "1255-25"
Date
1967-03-07
Photographer
Franklin, T.
Place of Publication
Philadelphia, Pa., U.S.
Dimensions
10 x 8 in.
Format
Photographic print
Category
Publicity photograph; Identification photograph
Subject
Univac Solid State 80 (Computer); Opportunities Industrialization Center; Sullivan, Leon H.; Eckert, J. Presper, Jr.
Collection Title
J. Pres Eckert papers
Series Title
Photographs
Credit
Purchase of the Computer History Museum