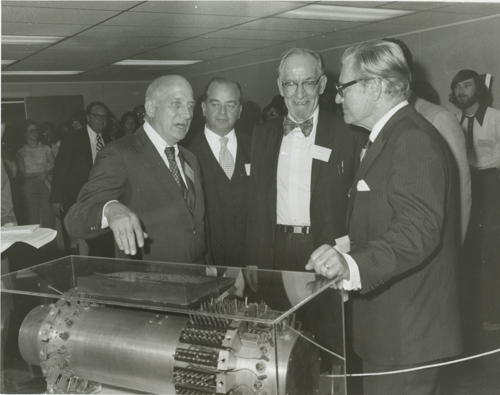 Title
J. Presper Eckert, John Mauchly and Vice President Nelson A. Rockefeller at the 25th anniversary of Univac
Date
1976-07-06
Publisher
Creative Photographic Communications
Place of Publication
Suitland, Md., U.S.
Identifying Numbers
| | |
| --- | --- |
| Other number | 76131 |
| Other number | C-1 |
| Other number | OOC 1385 |
Dimensions
8 x 10 in.
Format
Photographic print
Description
This is a black and white image of J. Presper Eckert, John Mauchly, and Vice President Nelson Rockefeller standing in front of the original Univac I core memory cylinder drum at the U.S. Census Bureau. From left to right on image is Eckert, an unidentified man, Mauchly, and Vice President Rockefeller. Eckert and Vice President Rockefeller are wearing coat and ties and Mauchly is wearing a bow tie. Written in black pen on verso side is "76131-C-1". Printed on the label affixed to verso side of image is "Creative Photographic Communications (202) 223-0964 806-808 Dupont Circle Building 1346 Connecticut Avenue, N.W. Washington D.C. 20036". Written on the green post it note that was on original protective sleeve was "UNIVAC memory".

Written in pencil on small round white label affixed to original protective sleeve is "1385".
Category
Publicity photograph; Identification photograph
Subject
Univac I (Computer); Rockefeller, Nelson A.; Mauchly, John; Eckert, J. Presper, Jr.
Collection Title
J. Pres Eckert papers
Series Title
Photographs
Credit
Purchase of the Computer History Museum