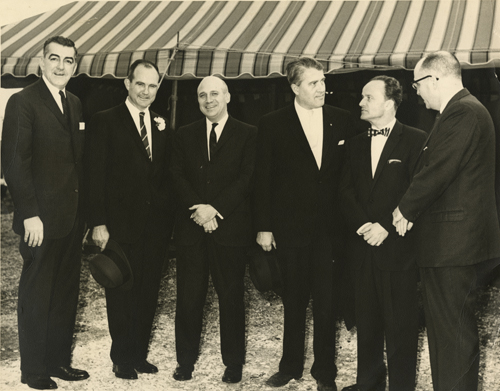 Title
J. Presper Eckert and Wernher von Braun standing near tent
Description
This is a black and white image of J. Presper Eckert (third from left) and Wernher von Braun (third from right) standing before a tent. There are four other unidentified men standing beside them in front of the same tent. They are all posing as a group and wearing suits. Eckert has his hands folded in front of him and is smiling towards the camera. Wernher is looking to the right side of the image and he is holding his hat with his right hand.
Written in pencil on small white round label on original protective sleeve is "1255-7"
Date
1960-1969
Dimensions
11 x 14 in.
Format
Photographic print
Category
Publicity photograph; Identification photograph; Group portrait
Subject
von Braun, Wernher; Eckert, J. Presper, Jr.
Collection Title
J. Pres Eckert papers
Series Title
Photographs
Credit
Purchase of the Computer History Museum