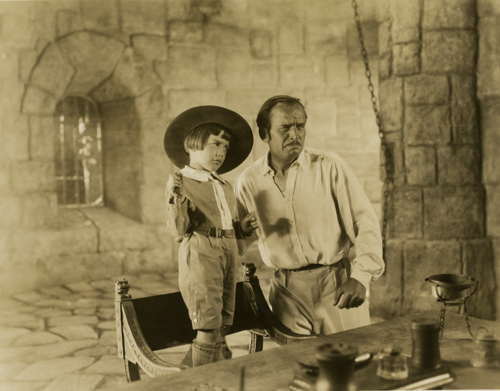 Title
J. Presper Eckert and Douglas Fairbanks, Jr. on a movie set
Description
This is a black and white image of Eckert standing on chair wearing a hat next to Douglas Fairbanks Jr. on a movie set. A castle interior is in the background. They are both looking off camera towards the right side of the image edge. Written on verso side is
"8 x 10" and "2967". Also written in pencil is "1/27...". Rest of writing is illegible.

Written in pencil on small white round label on original protective sleeve is "1086-8"

Date
1920 ca.
Identifying Numbers
| | |
| --- | --- |
| Other number | 2967 |
| Other number | OOC 1086-8 |
Dimensions
8 x 10 in.
Format
Photographic print
Category
Identification photograph
Subject
Fairbanks, Douglas, Jr.; Eckert, J. Presper, Jr.
Collection Title
J. Pres Eckert papers
Series Title
Photographs
Credit
Purchase of the Computer History Museum