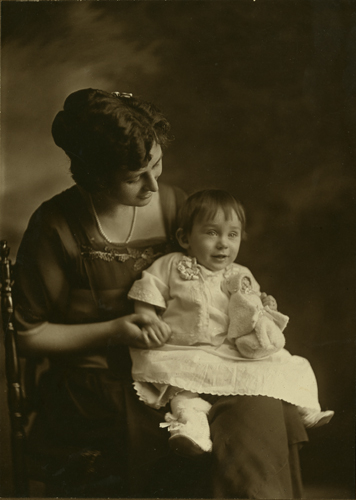 Title
J. Presper Eckert as an infant with his mother
Description
This is a black and white/brown tinted image of J. Presper Eckert sitting on his mother's lap in a studio. He is looking off to the side of the camera to the right of the image and smiling while his mother is looking at him holding his right arm. Stamped on the bottom of the cardboard backing is "Berger GERMANTOWN, PA."
Written in pencil on small white round label on original protective sleeve is "1086-2"
Date
1920 ca.
Publisher
Berger Studios
Place of Publication
Germantown, PA, US
Dimensions
6 3/8 x 4 5/8 in.
Format
Photographic print
Category
Publicity photograph; Identification photograph; Portrait photograph
Subject
Eckert, J. Presper, Jr.
Collection Title
J. Pres Eckert papers
Series Title
Photographs
Credit
Purchase of the Computer History Museum