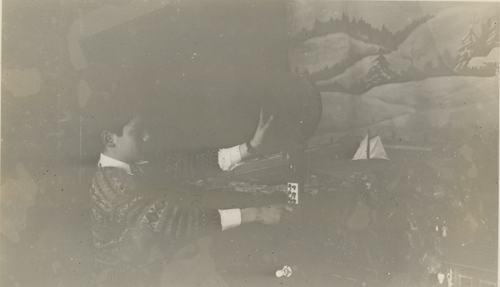 Title
J. Presper Eckert as a boy operating his magnetic boat
Description
This is a black and white image of Eckert at age 12 operating his magnetic boat that he designed. He is wearing a patterned sweater and white shirt and operating the console that drives the boat in the pond. The pond is surrounded by a model train set diorama. Stamped on verso side is "575". The accompanying newspaper reads "HOBBY FAIR DRAWS BIG CROWDS 1ST DAY....".
Written in pencil on small white round label on original protective sleeve is "1086-13"
Date
1931 ca.
Identifying Numbers
| | |
| --- | --- |
| Other number | 575 |
| Other number | OOC 1086-13 |
Dimensions
3 7/8 x 5 1/8 in.
Format
Photographic print
Category
Publicity photograph; Identification photograph
Subject
Eckert, J. Presper, Jr.
Collection Title
J. Pres Eckert papers
Series Title
Photographs
Credit
Purchase of the Computer History Museum