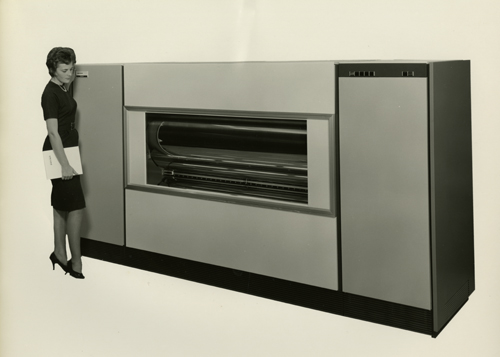 Title
Woman next to a Univac mass storage unit
Description
This is a black and white image of a woman, standing at left, in front of a Univac's mass storage unit against a white background. She is wearing a skirt and holding a Univac binder or folder with her right hand. J. Presper Eckert describes this type of storage unit in his speech "Industry Science & Technology in Last Third of the Century, 1966" as "...Univac's fastest and largest mass storage unit." (p. 10). Written on verso side is "Fig. 8". Written in pencil on small white strip included with binder is "1337".
Publisher
Sperry Rand Corporation. Univac Division
Identifying Numbers
| | |
| --- | --- |
| Other number | Fig 8 |
| Other number | OOC 1337 |
Dimensions
8 1/4 x 11 in.
Format
Photographic print
Category
Publicity photograph; Identification photograph
Subject
Univac (Computer); Eckert, J. Presper, Jr.
Collection Title
J. Pres Eckert papers
Series Title
Photographs
Credit
Purchase of the Computer History Museum