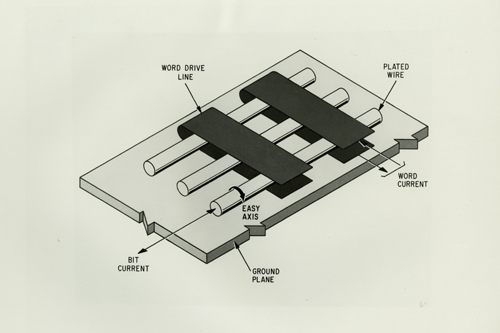 Title
Basic memory element diagram
Identifying Numbers
| | |
| --- | --- |
| Other number | Fig 4 |
| Other number | OOC 1337 |
Dimensions
8 1/4 x 11 in.
Format
Photographic print
Description
This is a black and white image of a memory isometric view diagram showing cut away view. There are six callouts/pointers around the diagram describing "WORD LINE DRIVE", "PLATED WIRE", "BIT CURRENT", "WORD CURRENT", "EASY AXIS", AND "GROUND PLANE". J. Presper Eckert describes this memory diagram in his speech "Industry Science & Technology in Last Third of the Century, 1966" as "...the basic memory element in this memory which replaces the ferrite core." (p. 8). Written on verso side is "Fig. 4". Written in pencil on small white strip included with binder is "1337".
Category
Publicity photograph; Identification photograph
Subject
Eckert, J. Presper, Jr.
Collection Title
J. Pres Eckert papers
Series Title
Photographs
Credit
Purchase of the Computer History Museum