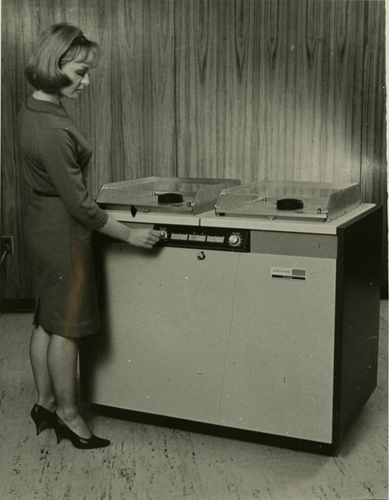 Title
Univac mass memory storage drive
Description
This is a black and white image of a woman, standing on the left, in front of a Univac mass storage drive and turning a knob with her right hand.
J. Presper Eckert describes this low cost mass storage unit in his speech "Industry Science & Technology in Last Third of the Century, 1966" as "...small low cost mass storage to hold a few million bits..." (p. 10). Written on verso side is "Fig. 9". Written in pencil on small white strip included with binder is "1337".
Identifying Numbers
| | |
| --- | --- |
| Other number | Fig 9 |
| Other number | OOC 1337 |
Dimensions
11 x 8 1/4 in.
Format
Photographic print
Category
Publicity photograph; Identification photograph
Subject
Univac (Computer); Eckert, J. Presper, Jr.
Collection Title
J. Pres Eckert papers
Series Title
Photographs
Credit
Purchase of the Computer History Museum