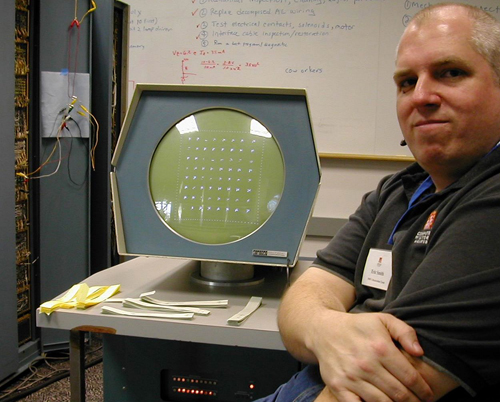 Title
Eric Smith of the PDP-1 restoration team with DEC type 30 display test pattern
Description
This is a color digital image of Eric Smith sitting in front of the DEC type 30 display that shows a test screen pattern. He has his arms folded and is looking at the camera. There are several paper tapes on the table in front of the display. In the background is a whiteboard with writing in blue and red pens. On the left side of the image is the PDP-1 mainframe.
Date
2005-04
Publisher
Computer History Museum
Place of Publication
Mountain View, Calif., U.S.
Dimensions
205 KB
Format
Electronic image
Category
Digital Image; Digital photograph; Identification photograph; Publicity photograph
Subject
PDP-1 (Computer); Digital Computer Corporation (DEC)
Credit
Created by the Computer History Museum PDP-1 restoration team