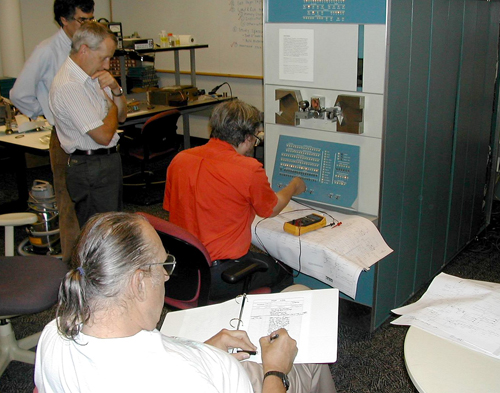 Title
PDP-1 restoration team debugging a stuck bit on PDP-1. From left to right: Joe Fredrick, Rafael Skodlar, Tim Coslet, Lyle Bickley
Description
This is a color digital image of the PDP-1 restoration team debugging a stuck bit on the PDP-1. From left to right are Joe Fredrick, Rafael Skodlar, Tim Coslet, and Lyle Bickley. Lyle Bickley is wearing a white t-shirt and is sitting down writing inside a binder. His back is facing the camera. Tim Coslet is wearing an orange shirt and sitting down in front of the PDP-1 console with his right hand turning or pushing switches. Joe and Rafael are standing looking at the direction of Tim Coslet and the PDP-1.
Date
2004-07
Publisher
Computer History Museum
Place of Publication
Mountain View, Calif., U.S.
Dimensions
419 KB
Format
Electronic image
Category
Digital Image; Digital photograph; Identification photograph; Publicity photograph
Subject
Bickley, Lyle; PDP-1 (Computer); Coslet, Tim; Fredrick, Joe; Digital Computer Corporation (DEC); Skodlar, Rafael
Credit
Created by the Computer History Museum PDP-1 restoration team