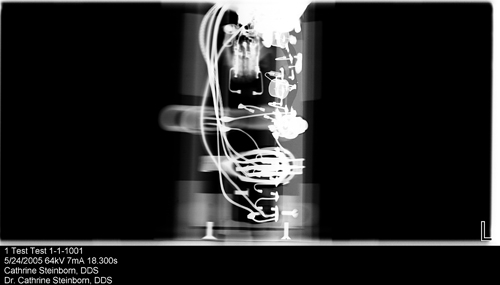 Title
X-ray image of high-voltage power supply for light pen from DEC PDP-1
Description
This is a black and white x-ray image from a light pen against a black background. The white figures in the image are circuit components such as wires and transistors. The caption on the bottom reads "1 TEST TEST 1-1-1001 5/24/2005 64kV 7mA 18.300s Cathrine Steinborn, DDS Dr. Cathrine Steinborn, DDS".
Date
2005-05
Publisher
Computer History Museum
Place of Publication
Mountain View, Calif., U.S.
Dimensions
378 KB
Format
Electronic image
Category
Digital Image; Digital photograph; Identification photograph; Publicity photograph; Other: See Description
Subject
PDP-1 (Computer); Steinborn, Cathrine; Digital Computer Corporation (DEC)
Credit
Created by the Computer History Museum PDP-1 restoration team