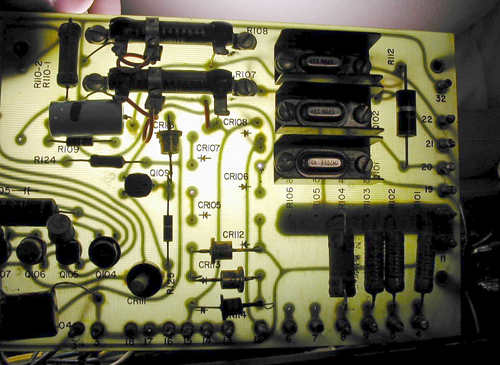 Title
NJE printed circuit board from PDP-1, removed from PDP-1 during restoration project
Description
This is a color digital image of someone holding a printed circuit board. The person's fingers can be seen at the top left corner of the image. Light is coming from behind the circuit board. The light illuminates the circuit board patterns as well as outlines of the transistors and capacitors used on the board.
Date
2004-12
Publisher
Computer History Museum
Place of Publication
Mountain View, Calif., U.S.
Dimensions
470 KB
Format
Electronic image
Category
Digital Image; Digital photograph; Identification photograph; Publicity photograph
Subject
PDP-1 (Computer); Digital Computer Corporation (DEC)
Credit
Created by the Computer History Museum PDP-1 restoration team