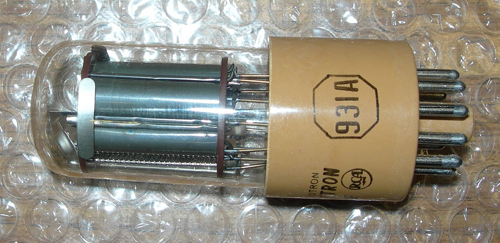 Title
Photomultiplier tube from light pen used on the PDP-1, removed during PDP-1 restoration project
Description
This is a color digital image of a photomultiplier tube from a light pen used on the PDP-1. The tube is resting on an air bubble wrap used for packing materials. Stamped on the tube in brown ink is "931A" and is surrounded by an octagonal shaped symbol. The RCA brand logo is also stamped on the tube as well.
Date
2005-05
Publisher
Computer History Museum
Place of Publication
Mountain View, Calif., U.S.
Dimensions
507 KB
Format
Electronic image
Category
Digital Image; Digital photograph; Identification photograph; Publicity photograph
Subject
PDP-1 (Computer); Digital Computer Corporation (DEC)
Credit
Created by the Computer History Museum PDP-1 restoration team