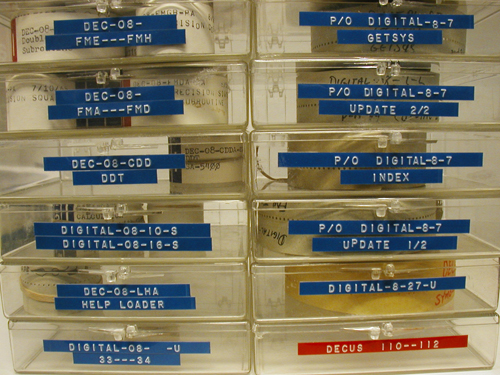 Title
Containers storing paper tapes for DEC PDP-8
Description
This is a color digital image of 12 containers storing paper tapes for the PDP-1. Each container has a blue label with white text affixed except for the bottom right container which has a red label with white text. The two top containers are labeled "DEC-08- FME---FMH" and "P/O DIGITAL-8-7 GETSYS". The bottom right container with a red label and white text is labeled "DECUS 110--112".
Date
2005-10
Publisher
Computer History Museum
Place of Publication
Mountain View, Calif., U.S.
Dimensions
428 KB
Format
Electronic image
Category
Digital Image; Digital photograph; Identification photograph; Publicity photograph
Subject
PDP-1 (Computer); Digital Computer Corporation (DEC)
Credit
Created by the Computer History Museum PDP-1 restoration team