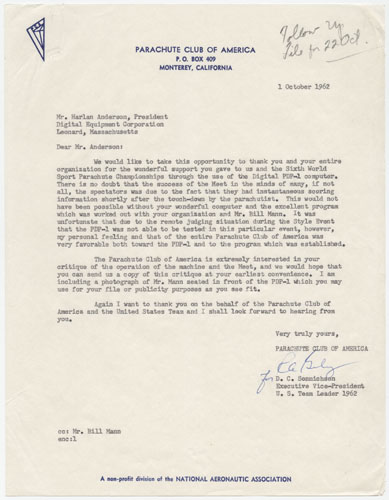 Title
Parachute Club of America records
Description
This folder contains correspondence to Anderson and other material related to the Parachute Club of America's Sixth World Sport Parachute Championships and DEC's support of it through the use of the PDP-1 computer. One item from these records has been digitized: a letter from Executive Vice President D. C. Sonnishcen. The Parachute Club of America was a nonprofit division of the National Aeronautic Association.
Date
1962
Author
Sonnichsen, D.C.; Gunby, Russell A.
Publisher
Parachute Club of America
Dimensions
11 x 8 1/2 in.
Category
Correspondence
Collection Title
Digital Equipment Corporation records
Series Title
Executives' papers: Harlan Anderson papers
Credit
Gift of Hewlett-Packard Company