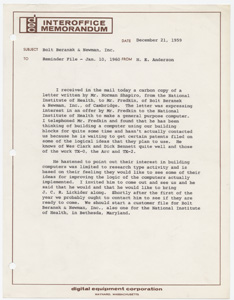 Title
Memorandum from Anderson about Bolt Beranek & Newman Inc.
Description
This is a memorandum from Anderson about a letter written by Norman Shapiro from the National Institute of Health to Mr. Fredkin of Bolt Beranek & Newman Inc. regarding Fredkin's offer to make a general purpose computer. It is noted that the memo should go in the reminder file for Jan. 10, 1960, and a customer file should be started for Bolt Beranek & Newman.
Date
1959-12-21
Author
Anderson, Harlan E.
Publisher
Digital Equipment Corporation (DEC)
Extent
1 p.
Dimensions
11 x 8 1/2 in.
Category
Memoranda
Collection Title
Digital Equipment Corporation records
Series Title
Executives' papers: Harlan Anderson papers
Credit
Gift of Hewlett-Packard Company