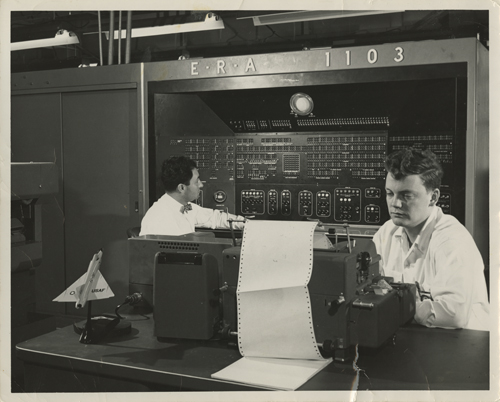 Title
Ben Ferber and Robert Price working with ERA 1103
Date
1954 ca.
Publisher
General Dynamics Corporation. Convair Division; Engineering Research Associates (ERA); Remington Rand, Inc.
Dimensions
8 x 10 in.
Format
Photographic print
Description
This is a black and white image of Robert Price, right, at teletype console and Ben Ferber, left, at the ERA 1103 console. Both men are seated and neither are looking at the camera. There is a US Air Force jet model on the table to the left. The computer is labeled "ERA 1103". Stamped on verso side is "CONVAIR, A DIVISION OF GENERAL DYNAMICS CORPORATION". Written on verso side is "The 'operator' is my boss - Ben Ferber". Also written on verso is "18-173".
Category
Identification photograph; Publicity photograph
Subject
ERA 1103 (Computer); Ferber, Ben; Price, Robert M.
Credit
Gift of Robert Price