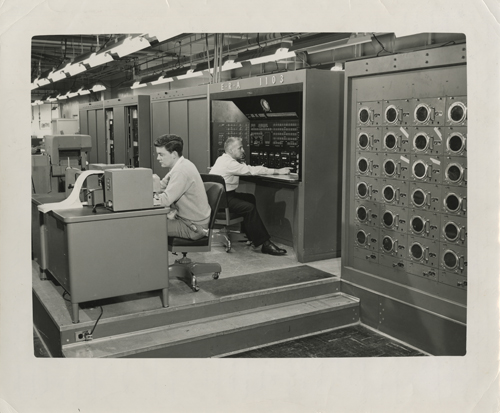 Title
Robert Price, seated right, at printer console by ERA 1103 digital computer
Description
This is a black and white image of an unidentified man, seated left, and Robert Price, seated right, working beside the ERA 1103 computer. Robert is reading something from the printer station and the other man is working on the console on the ERA 1103. None of them are looking at the camera. Stamped on verso side is "T26577 CONVAIR, A DIVISION OF GENERAL DYNAMICS CORPORATION". There is also a label with writing that reads "PROJECT BROCHURE NEG. NO. T-26577...DETAILED TITLE Digital Computer in Operation, Front Close-up...."
Date
1954-12-15
Publisher
General Dynamics Corporation. Convair Division; Engineering Research Associates (ERA)
Identifying Numbers
| | |
| --- | --- |
| Other number | ERA 1003 |
| Other number | T-26577 |
Dimensions
9 x 11 in.
Format
Photographic print
Category
Identification photograph; Publicity photograph
Subject
Price, Robert M.; ERA 1103 (Computer)
Credit
Gift of Robert Price