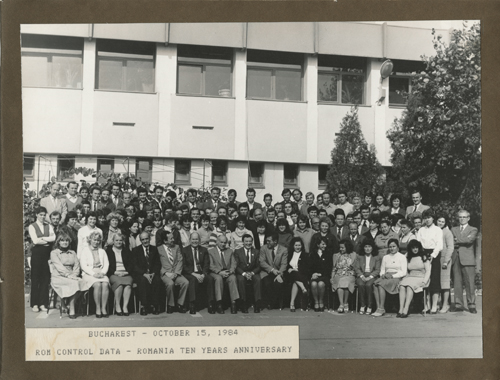 Title
Robert Price in Bucharest, Romania for 10th anniversary of Control Data
Description
This is a black and white image of Robert Price, seated center front row, among a group of people. The people are standing outside a building. Caption on image reads "BUCHAREST - OCTOBER 15, 1984 ROM CONTROL DATA ROMANIA TEN YEARS ANNIVERSAY". This is an outdoor shot with light coming from overhead.
Date
1984-10-15
Place of Publication
Bucharest, Romania
Dimensions
8 x 10 in.
Format
Photographic print
Category
Identification photograph; Publicity photograph; Group portrait
Subject
Control Data Corporation--History; Control Data Corporation (CDC); Price, Robert M.
Credit
Gift of Robert Price