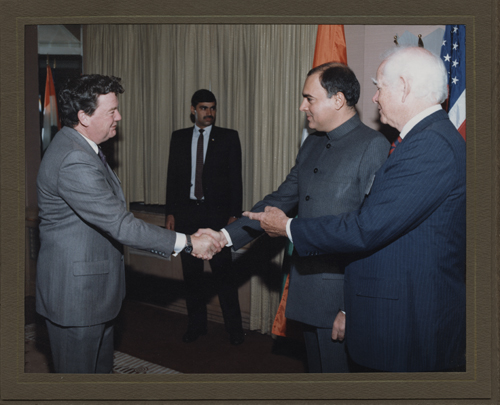 Title
Robert Price and Rajiv Gandhi at India-U.S.-India Business Council meeting
Description
This is a color image of Robert Price, standing left, shaking hands with India Prime Minister Rajiv Gandhi, right. This is a side profile shot as none of the men are looking at the camera. There is an unidentified man standing on the extreme right edge of image holding up his left arm and pointing to Mr. Price. The letter that accompanied photo is on India-U.S. Business Council letterhead. It is addressed to Robert Price from Donald Kendall dated December 17, 1987. The letter reads "...Dear Bob: I wanted to take this opportunity to express my appreciation..."
Date
1987 ca.
Dimensions
8 x 10 in.
Format
Photographic print
Category
Identification photograph; Publicity photograph; Flash photograph
Subject
Kendall, Donald M.; Gandhi, Rajiv; Price, Robert M.
Credit
Gift of Robert Price