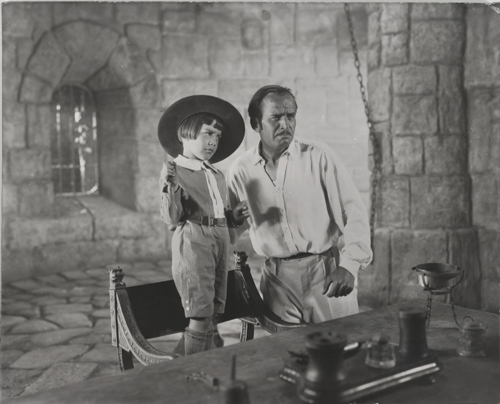 Title
J. Presper Eckert and Douglas Fairbanks, Jr. on a movie set
Description
This is a black and white negative of Eckert standing on chair wearing a hat next to Douglas Fairbanks Jr. on a movie set. A castle interior is in the background. They are both looking off camera towards the right side of the image edge. Written in pencil on small white round label on original protective sleeve is "1086-8"
Date
1920 ca.
Identifying Numbers
| | |
| --- | --- |
| Other number | 2967 |
| Other number | OOC 1086-8 |
Dimensions
8 x 10 in.
Format
Negative
Category
Identification photograph
Subject
Fairbanks, Douglas, Jr.; Eckert, J. Presper, Jr.
Collection Title
J. Pres Eckert papers
Series Title
Photographs
Credit
Purchase of the Computer History Museum