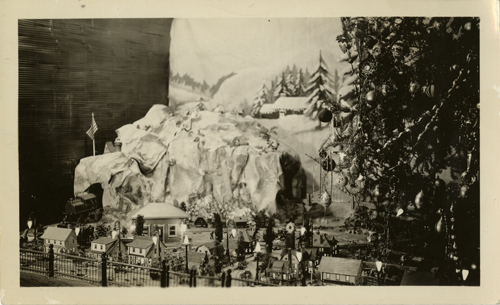 Title
Model railroad diorama with Christmas tree by J. Presper Eckert
Description
This is a black and white image of a model railroad diorama with Christmas tree and a winter background. There are small miniature buildings with a train coming out of a tunnel. The Christmas tree is on the right side of the image. Written on verso side in pencil is "Christmas scene made by Pres". Stamped in black ink on verso side is "23".
Written in pencil on small white round label on original protective sleeve is "1086-13" but this photo is not part of the description from OOC. There was another image under 102664291 was included in the same protective sleeve which matches description listed under "1086-13".
Identifying Numbers
| | |
| --- | --- |
| Other number | 23 |
| Other number | OOC 1086-13 |
Dimensions
3 1/2 x 5 3/4 in.
Format
Photographic print
Category
Identification photograph
Subject
Eckert, J. Presper, Jr.
Collection Title
J. Pres Eckert papers
Series Title
Photographs
Credit
Purchase of the Computer History Museum