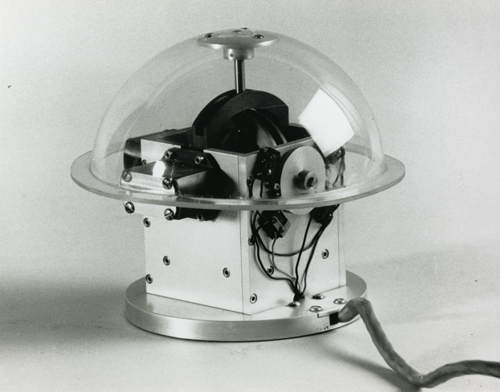 Title
Crystal Ball from the MIT Electronic Systems Laboratory display console
Date
1963 ca.
Publisher
Massachusetts Institute of Technology (MIT) Electronic Systems Laboratory
Identifying Numbers
| | |
| --- | --- |
| Other number | 5 |
| Other number | 894 2285 |
| Other number | P2048 |
Dimensions
8 x 10 in.
Format
Photographic print
Description
This is a black and white image of a 3D I/O device constructed under .i.MIT: Project MAC:Crystal Ball. The ball is against a white background with a cord going off to the right edge of image. The top of the ball is a clear half dome top. The Crystal Ball was used as a three-step rate control to provide a natural easy control over the rotation of a three dimensional object viewed on the screen. If desired the Crystal Ball could be used in any way that the programmer desired. Important early user interface: The designers used a DEC 330 scope connected to an IBM 7094 for computer aided design. Stamped on verso side is "894 2285". Written on verso side in blue ink is "5".
Category
Identification photograph; Publicity photograph
Subject
I/O: pointing: mouse; Massachusetts Institute of Technology (MIT)--History; International Business Machines Corporation (IBM); Digital Computer Corporation (DEC)