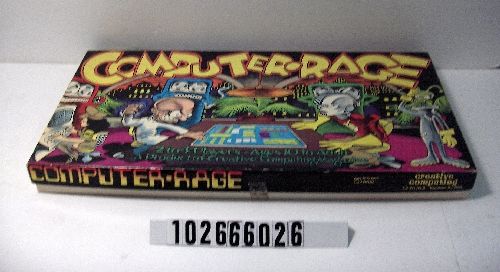 Date
1977 ca.
Manufacturer
Creative Computing
Place Manufactured
U.S.
Dimensions
in box: 1.5 x 19.5 x 10 in
Copyright Holder
Creative Computing
Description
Object consists of box, instructions, game board, game cards and game pieces.
Category
Ephemera: other
Curator Notes
Computer Rage was first released in 1977, the same year the Commodore PET, Apple II, and TRS-80 were introduced into the personal computing landscape. A play on words of the burgeoning personal computer age, the basic rules of this board game were based on a simplified version of modern computer operations. Player's pieces represented "Programs" and pieces moved according to rolls of three "binary dice." The first player to make it all the way from "Input" to "Output" won the game.
Credit
Gift of Barbara Berry