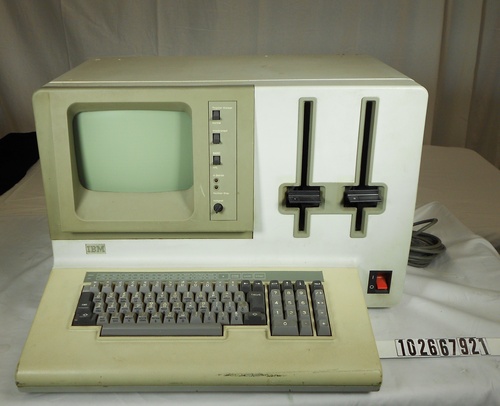 Title
Model 5120 computer system
Description
The front of the unit has an alpha-numeric keyboard that extends out from the rest of the unit. Above the keyboard is a dark gray panel containing a CRT, 3 switches, 2 lights, and a potentiometer.
Two 8 inch disk drives, mounted vertically, are next to the display panel. To the right of the keyboard, in the lower right corner, is a red on/off switch.
The right and left sides are plain, except for some vertical slots for ventilation.
The bottom third of the back is beige and there are vertical slots for ventilation that wrap slightly around both sides. The power cord extends out the lower left corner and is coiled.
The upper two thirds is gray and there are some vertical ventilation slots that wrap over to the top.
In the center of the back is an opening to allow access to a BNC connector.
To the right of that are 4 D-type recepticles, and a D-type plug. The plug and one of the recepticles are labeled with an A and an S. These 2 connectors have plastic retainers, one of which is almost completely broken off.
The bottom consists of a thick ribbed bare metal plate.
Date
1980
Manufacturer
International Business Machines Corporation (IBM)
Place Manufactured
Armonk, N.Y.
Identifying Numbers
| | | |
| --- | --- | --- |
| Model number | 5110-3 | Printed on metal plate in the lower left corner of back side |
| Other number | KF 271 | Embossed on square metal plate in the lower left corner of back side |
Dimensions
overall: 15 in x 22 5/8 in x 21 1/2 in
Category
Digital computer/personal computer/desktop
Collection Title
SAP Collection
Credit
SAP Collection, Computer History Museum