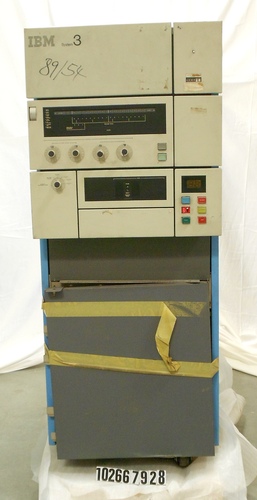 Title
System/3 CPU model 5415
Description
Object is an IBM System/3 Model 5415 CPU cabinet with control panel but lacking the console table. The IBM 5415 front panel has four rotary switches for hexadecimal data entry and one six position rotary switch. There is a two-digit numerical readout: start, stop, and "laden".
The IBM System/3 midrange computer line was introduced in 1969. It was aimed at smaller business organizations that still used IBM 1400 series computers. In July 1973, IBM introduced a new, larger-capacity System/3, the Model 15 (IBM5415), with added function and versatility. The Model 15 instruction cycle time was 1.52 microseconds and supported 48K-512K of semiconductor memory. It could be ordered with hard disc or magnetic tape mass storage. In contrast, some modern day cell phones have 8 internal processors, each with a clock speed of 1.80 GHz (55 nanoseconds), and supports 128GB-1000GB of memory.
Along with the System/3, IBM introduced the IBM 5424 Multifunction Card Unit (MFCU) which read, punched and sorted the new smaller 96 column punched cards. These cards stored more information in a smaller form factor than the traditional 80 column IBM punched cards.
Date
1973
Manufacturer
International Business Machines Corporation (IBM)
Identifying Numbers
| | | |
| --- | --- | --- |
| Model number | IBM 5415 Zentraleinheit | Embossed on a metal plate on the top left side of the object |
| Other number | 202.89.54.1 | Computer Museum Aachen deprecated registration number written on the top left panel and also on a piece of paper adhered to the top left panel |
| Other number | 89/54 | Written on the front of the object |
Dimensions
overall: 60 in x 24 1/2 in x 68 in
Category
Digital computer/mainframe
Collection Title
SAP Collection
Credit
SAP Collection, Computer History Museum