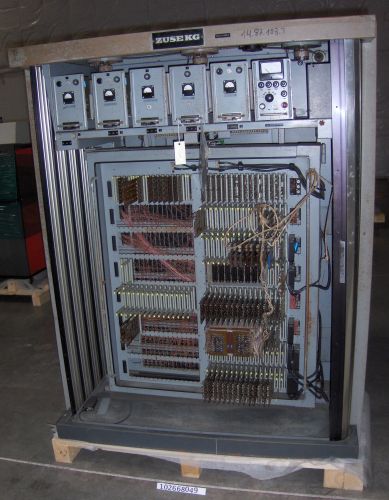 Description
The object is a large steel cabinet with sliver and black aluminium tambour doors. Three fans extend out of the top of the cabinet with inlet vents on the back.
The interior has 6 modular power supplies on top (numbered 1 through 5 and "netzuberwachung") that plug into the back along with two loose empty boxes of unknown purpose to their right.
The bottom has two fan-folded gates, one in front of the other, each with two racks of 8 rows for logic cards (partially populated, with at least one core memory module).
Date
1961 ca.
Manufacturer
Zuse
Identifying Numbers
| | | |
| --- | --- | --- |
| Serial number | 101039 50 | Typed onto silver label at top center of front logic gate |
| Serial number | 2755117 | Stamped on variable power supply#3 metal name tag side on right |
| Serial number | 2787 | Stamped on power supply#4 metal name tag |
| Serial number | 2848 | Stamped on power supply#5 metal name tag |
| Serial number | 2892 | Stamped on power supply#2 metal name tag |
| Serial number | 2897 | Atamped on power supply#1 metal name tag |
| Serial number | 3006 | Stamped on power supply#3 metal name tag |
Dimensions
overall: 63 3/4 in x 51 3/4 in x 29 1/2 in
Category
Digital computer/mainframe
Collection Title
SAP Collection
Credit
SAP Collection, Computer History Museum