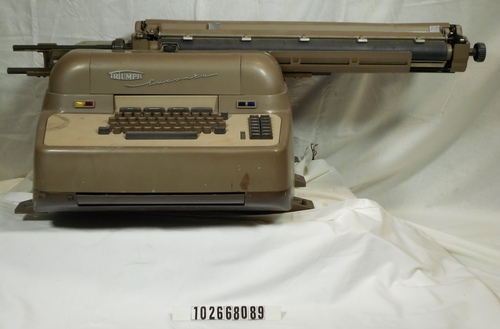 Title
Enconta accounting machine
Description
It looks like a large typewriter with an oversized carriage. All the corners are rounded. The keyboard is a standard typewriter keyboard. There is a row of buttons above those keys, and toward the right end of the keyboard, there are 2 columns of 7 keys each. There is a slide switch between the keyboard keys and the 2 columns of 7 keys. On the vertical face above the keyboard, there are 2 rectangular indicators on each side. Toward the bottom, there is a hinged drop-down cover that reveals 6 thumb wheel switches.
There are two metal "Triumph" name plates on the front and back, and a metal "Enconta" name plate on the front.
Extending from some solder terminals in the left rear are 3 multi-conductor cloth insulated cables that have been cut. Extending out of a hole on the right side of the bottom are a power cord, a 2-conductor wire and a 3-conductor wire.
There are 3 heavy metal brackets extending out each side of the bottom which hold threaded adjustable feet. Three of the feet are missing.
Manufacturer
Triumph
Dimensions
overall: 15 in x 32 in x 22 1/2 in
Category
Calculator/electromechanical
Collection Title
SAP Collection
Credit
SAP Collection, Computer History Museum