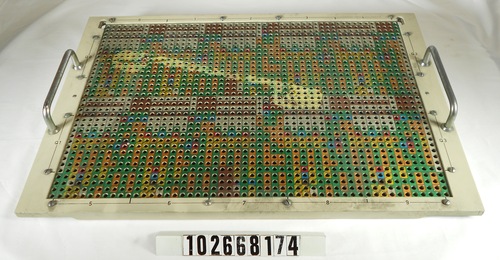 Title
Plugboard for analog computer
Description
This plugboard panel with silver handles on the side of the frame, has receptacles grouped by colors and symbols, with coordinate marking on all 4 edges.
There are two large mounting holes on top of the frame. The back is bare metal, with a green sticker on left side showing German printing, and several black stamps on the top near the sticker.
There are four mounting studs on inside of back , one of which is missing.
Manufacturer
Telefunken
Identifying Numbers
| | | |
| --- | --- | --- |
| Other number | 25 FEB. 1971 | Stamped to right of sticker on top of back |
| Other number | 6300004 | On sticker on top of back |
| Other number | 72 DF 17 | Green sticker on left side of back |
| Other number | APF77/C | On sticker on top of back |
Dimensions
overall: 2 3/4 in x 23 1/4 in x 15 7/8 in
Category
Memory/connector / plugboard
Collection Title
SAP Collection
Credit
SAP Collection, Computer History Museum