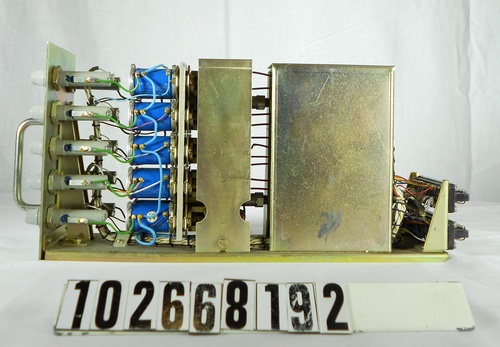 Title
RA770 analog computer PFE 770 fuse module
Date
1966 ca.
Manufacturer
Telefunken
Identifying Numbers
| | | |
| --- | --- | --- |
| Model number | PFE 770 | On Telefunken label, at bottom of face panel |
| Other number | 6/7 | At bottom-right corner of face plate |
| Serial number | 535 1028 | On Telefunken label, at bottom of face panel |
Dimensions
overall: 6 1/4 in x 3 in x 13 3/4 in
Description
The object is one Telefunken RA770 analog computer PFE 770 fuse module. The back half of the module is encased in greenish-gold sheet metal. Ten cobalt-blue Bourns resisters are visible behind the fuse panel. The face panel holds the ten fuses, which are accessed by unscrewing a gray plastic knob, labeled "fuse" in blue letters. There are two vertical columns of six fuses; each column is numbered "0, 1, 2, 5, and 6" above the fuses. A metal handle is attached between the two columns. A black and silver Telefunken label is located at the bottom of the face panel and a black-and-white label marked "6/7" is attached to the bottom-right corner. A paper sticker attached to the top rear of the module reads "5351028(C12), Min.: 15mA, Motor Platz 10, Max:28mA, Motor Platz 7."This module is related to catalog number 192667915, RA770 analog computer.
Category
Component/module
Collection Title
SAP Collection
Credit
SAP Collection, Computer History Museum