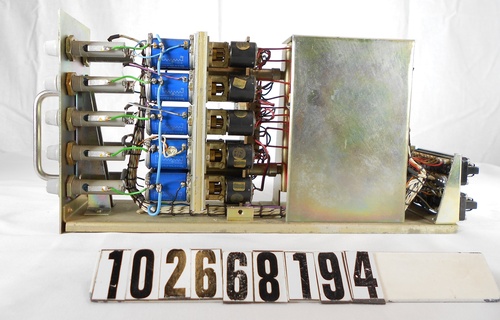 Title
RA770 analog computer PFE 770 servo potentiometer module
Description
Professor Bernd Ulmann writes, "The RA770 had 16 manual 10-turn potentiometers mounted below the patch field. In addition to these the machine could be equipped with motor driven
servo-potentiometers. These are contained in modules, each holding 10 such servo-potentiometers. Expansion is possible to about 100 such servo-potentiometers (there even was a field conversion kit that allowedabout 120 of these to be installed).

Using the control panels, the programmer selects a potentiometer by its assigned address and sets a value on the panel right next to the patch panel. Pressing "POTSET", the input of the selected potentiometer is connected to +10V while its output is switched to the central readout bus. A comparator runs the associated servo motor until the value of the potentiometer equals the value entered by the keys on the control panel.

This setup could also be automated by attaching a digital computer in a hybrid computer setup, some installations allegedly had a paper tape reader to facilitate potentiometer setup when switching from one program to another.

Regarding the fuses: There were two versions of these modules: The older ones have fuses of 5 mA (!) (or 30 mA) protecting the precious wiper of the potentiometers. These were accessible from the front in case one blew due to a patching error. Later modules used a small incandescent lamp in series with the wiper thus limiting the maximum current in case of a patching error (much more elegant."
Date
1966 ca.
Manufacturer
Telefunken
Place Manufactured
Germany
Identifying Numbers
| | | |
| --- | --- | --- |
| Model number | PFE 770 | On Telefunken label at bottom of face panel |
| Other number | V23162-B0422-B610 | On right-side of silver-tone rectangular Siemens components |
| Serial number | 535 1024 | On Telefunken label at bottom of face panel |
Dimensions
overall: 6 1/4 in x 3 in x 13 3/4 in
Category
Component/module
Collection Title
SAP Collection
Credit
SAP Collection, Computer History Museum