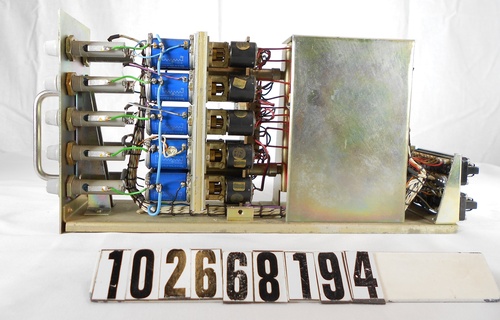 Title
RA770 analog computer PFE 770 fuse module
Date
1966 ca.
Manufacturer
Telefunken
Place Manufactured
Germany
Identifying Numbers
| | | |
| --- | --- | --- |
| Model number | PFE 770 | On Telefunken label at bottom of face panel |
| Other number | V23162-B0422-B610 | On right-side of silver-tone rectangular Siemens components |
| Serial number | 535 1024 | On Telefunken label at bottom of face panel |
Dimensions
overall: 6 1/4 in x 3 in x 13 3/4 in
Description
The object is one Telefunken RA770 analog computer PFE 770 fuse module. The right-rear portion of the module is encased in greenish-gold sheet metal. Ten cobalt-blue Bourns resisters are visible behind the fuse panel. The face panel holds the ten fuses, which are accessed by unscrewing a gray plastic knob, labeled "fuse" in blue letters. There are two vertical columns of six fuses; each column is numbered "0, 1, 2, 5, and 6" above the fuses. A metal handle is attached between the two columns. A black-and-silver Telefunken label is located at the bottom of the face panel and a black-and-white label marked "8/9" is attached to the bottom-right corner. The ten brown and clear cylindrical components amid the module are marked "MADE IN GERMANY" on the clear portion. This module is related to catalog number 192667915, RA770 analog computer.
Category
Component/module
Collection Title
SAP Collection
Credit
SAP Collection, Computer History Museum