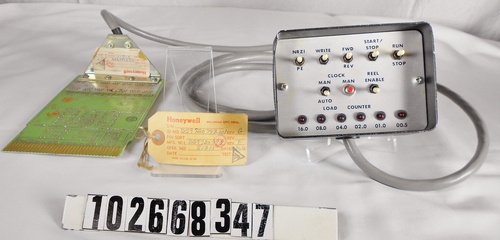 Title
Tape control box and cable
Manufacturer
CII Honeywell Bull
Place Manufactured
Oklahoma City, Okla.
Identifying Numbers
| | | |
| --- | --- | --- |
| FCC ID number | D59720799-001 | Found on original tag |
| Other number | 11050 | Found on right of PCB parallel to side |
| Other number | 81215 | Oper. No. - Found on original tag |
| Other number | D59720799 | MFG. W/L - Found on sticker on metal plate attaching PCB to cable as well as origianal tag |
Dimensions
overall: 3 in x 4 3/4 in x 3 1/2 in; overall: 2 1/4 in x 4 3/4 in x 7 1/2 in
Description
This object consists of a printed circuit board attached to a tape control box by a 9 foot cable. The circuit board contains several components connected via a green plastic substrate with printed "W"s throughout. 1/3 down the board the component face of the module is divided into a grid with 1 2 3 along the top edge and A B C D E running parallel to the cable end. Above the component section there are several multi-colored wires on top of a numbered metal plate. The wires are held in place by a white plastic bar connected by four metal nails. There are two orange inspection stamps on this side. On the reverse side there is a large metal bracket connecting the cable to the module. On the bracket is a sticker with the manufacturer and relevant numbers. Below the bracket is a metal plate with holes for the wires on the component side. The bottom half of the substrate has several soldered joints and four inspection stamps. The control box on the other end of the cable is black with a silver metal face. There is black lettering above the controllers, load counter lights, and buttons. An original tag is included.
Category
Component/connector
Collection Title
SAP Collection
Credit
SAP Collection, Computer History Museum