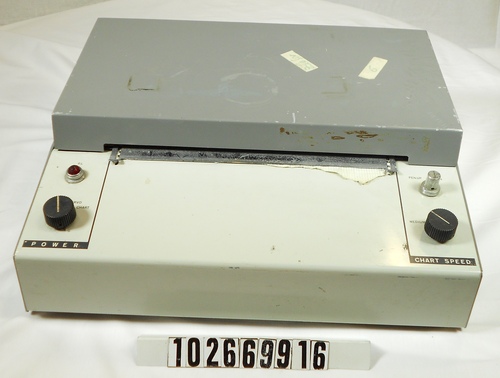 Title
Model 159-0021 chart recorder/data plotter
Description
This artifact is a two-tone metal box with a sloping control panel on top, and a lid to provide access to inner workings.
On the control panel, there are two controls on either side of chart paper print out.
There are 2 handwritten stickers on top, a yellow attention paper taped to right side.
Also on right side, there is a recessed knob to advance the chart paper.
On the back, there is a hinged panel that allows access to connect the external wiring. Two wires coming out of the unit have been cut off.
Inside is the mechanism to move the pen, a chassis with 2 connectors on the side, 3 vacuum tubes, and several other components.
It appears that the ink reservoir still contains ink.
There are 6 warning and instruction stickers applied to the chassis and the inside of the cover.
Manufacturer
Hitachi
Place Manufactured
Japan
Identifying Numbers
| | | |
| --- | --- | --- |
| Model number | 159-0021 | On the metal label on back of unit |
| Other number | K19131 | On the metal label on back of unit |
Dimensions
overall: 5 1/2 in x 16 in x 14 1/8 in
Category
I/O/plotter
Collection Title
SAP Collection
Credit
SAP Collection, Computer History Museum