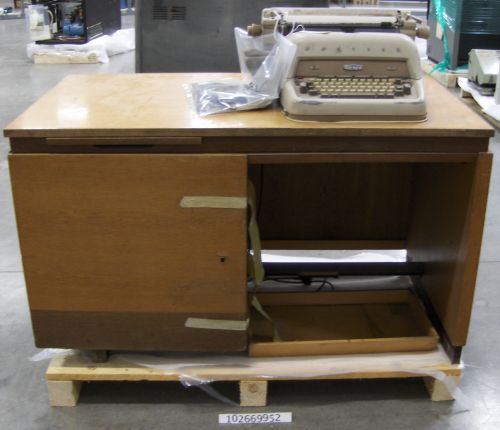 Title
Factura ledger machine
Manufacturer
Triumph
Place Manufactured
Western Germany
Identifying Numbers
| | | |
| --- | --- | --- |
| Model number | 610 | Stamped on metal tag of Walther calculator located inside leftside cabinet |
| Other number | 256.90.49. | Computer Museum Aachen deprecated registration number handwritten in felt pen on paper label on left side of desk |
| Other number | 256.90.49.12 | Computer Museum Aachen deprecated registration number handwritten in felt pen on typewriter |
| Other number | 7718 | "FABRIK" number printed on a metal label on back of the typewriter |
| Other number | 8U269 | Stamped on metal tag of Walther calculator located inside leftside cabinet |
Dimensions
overall: 38 in x 48 in x 25 3/4 in
Description
The machine consists of a wooden desk with an electric typewriter on the right and a cabinet with a Walther model 610 calculator inside it on the left with a panel of relay logic behind it.
There is a sliding panel and a shallow desk drawer (detached) below the typerwriter, and a sliding panel with a cutout above the cabintet door.
The typewriter has three columns of two thumbwheel switches in the back.
The calculator can slide out (though it is unsupported) on a custom welded steel frame. It appears to be modified so that the keys (still extant) are pressed by solenoids (likely from the typwriter keys), and the output is read out electrically (likely to the typewriter printer mechanism); no provision for paper appears to exist.
There is a bag loose parts attached: a cover for the typewriter, a small plastic case labelled "Pelikan", and miscellaneous brackets.
Category
Calculator/electromechanical
Collection Title
SAP Collection
Credit
SAP Collection, Computer History Museum