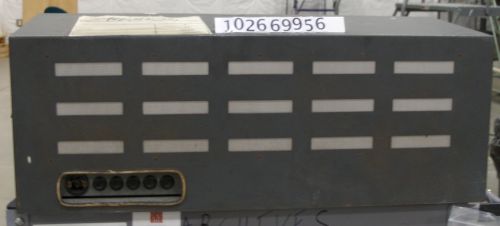 Manufacturer
Zuse
Identifying Numbers
| | | |
| --- | --- | --- |
| Other number | 120x80 | Written withpen on a paper label glued to the top of the unit |
| Other number | 14.87.32. | Written with marker on a paper label glued to the top of the unit |
| Other number | 59 | Written with pen on a paper label glued to the top of the unit |
Dimensions
overall: 10 3/4 in x 31 in x 18 1/2 in
Description
There is a sloping panel on the front of the enclosure. On this panel there are 35 PC card connectors. Below the connectors, there is a row of ivory buttons. To the right of the buttons, there are 4 color coded banana jacks arranged in a square, and an Amphenol coaxial connector.
Extending vertically from the top of the sloped panel, there is another panel with a large meter in the center. To the left of the meter, there is an ivory push button, a potentiometer, and a selector switch. To the right of the meter, there is an ivory button, 2 potentiometers and a selector switch.
The top extends over the vertical panel to form a hood.
The front of the artifact is plain except for a metal protrusion in the lower left corner, and a broken toggle switch in the lower right corner.
The top slopes slightly upward from the back towards the front, is plain except for the paper label, and a word stamped in a plastic label.
The right side is plain except for 2 screws and a rusty bronze colored metal handle.
The left side is the same except that one of the screws is missing.
The back side has 3 rows of 5 rectangular screens for ventilation.
Above and below these, there is a row of 5 screws. In the lower left corner of the back, there is an indented panel with the power receptacle and 5 fuse holders.
Category
Test equipment
Collection Title
SAP Collection
Credit
SAP Collection, Computer History Museum