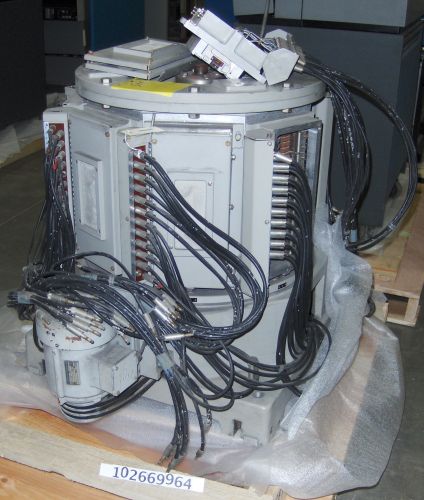 Description
Central part of unit is a large cylinder. There is a motor on the left side and a control box on the right side. The control box has a panel consisting of 1 red, 1 white, and 1 green button and a light.
There are cables attached to all eight of the vertical sections of the central cylinder.
There are also two poly bags attached to the unit; one containing a cable and some wire, and one containing a bracket and two filtered covers.
Manufacturer
Siemens
Identifying Numbers
| | | |
| --- | --- | --- |
| Other number | 145 1/2 | On yellow adhesive label affixed to the top of the unit |
| Other number | 3.87.22.25 | Computer Museum Aachen deprecated registration number written on adhered label on top of control box and written on rear of unit. |
| Other number | E 1027956 | Stamped into "Nr." field metal label affixed to motor |
Dimensions
overall: 27 1/2 in x 44 in x 31 in
Category
Memory/drum
Collection Title
SAP Collection
Credit
SAP Collection, Computer History Museum