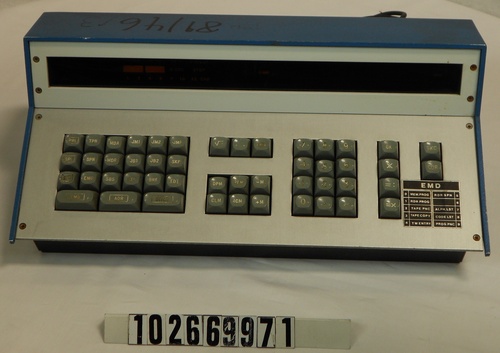 Title
Mael 4000 keyboard unit
Description
Written in indelible ink on top of object is "89146/3". Written on bottom of object is "NIESEN". The power cord is still attached but is missing the power plug.
Manufacturer
Insel
Place Manufactured
Italy
Identifying Numbers
| | | |
| --- | --- | --- |
| Model number | MODEL 4002 | On a sticker on the back of the object |
| Serial number | SERIAL No 21865 | On a sticker on the back of the object |
Dimensions
overall: 6 1/2 in x 16 1/2 in x 10 in
Category
I/O/keyboard
Collection Title
SAP Collection
Curator Notes
Rome-based Insel designed small business computers for first-time computer users. The MAEL 4000 series was used for both accounting in business and as a programmable desk calculator for engineering applications. This keyboard unit operated at the system's console. The company was renamed Mael Computers and acquired by Olivetti in 1982.
Credit
SAP Collection, Computer History Museum