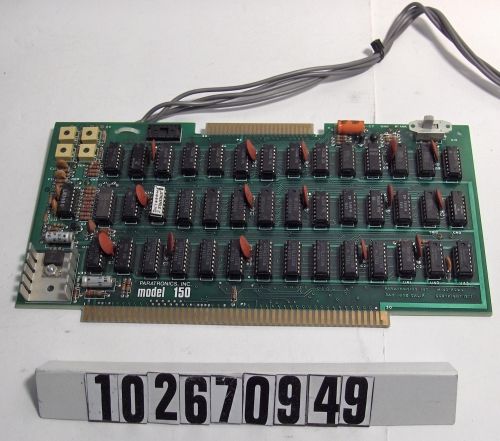 Title
S-100 based logic analyzer circuit board
Date
1977 ca.
Manufacturer
Paratronics, Inc.
Identifying Numbers
Model number
150
Other number
150 0028
Ink stamped on wiring side in white
Other number
1977
Copyright date etched on component side
Other number
6277
Ink stamped on wiring side in black
Other number
M150-PC82
Etched on component side
Dimensions
overall: 5/8 in x 10 in x 5 1/4 in
Description
Object has four miniature coaxial leads attached to the wiring side. Leads are labeled "TRIG", "HOR", "VERT", and "BLNK". All but "TRIG" are terminated by a BNC connector. "TRIG" appears to also have had a BNC connector at one time, however only the center pin remains. An IC socket labeled "J1" is unpopulated.

A post-it note reading "S-100-Based Logic Analyzer connected to Oscilloscope for Test/Diagnose work" was found and determined to be for this object.
Category
Component/circuit board
Credit
Gift of Johnson-Laird Inc.