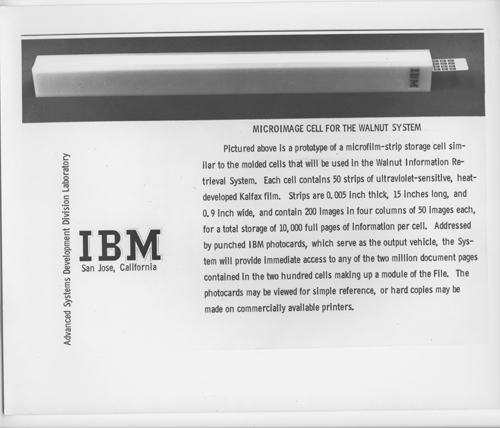 Date
1960-01-18
Publisher
International Business Machines Corporation (IBM)
Place of Publication
San Jose, CA
Dimensions
overall: 8 in x 10 in
Description
B&W image of Walnut Cell. Shows plasticwith one strip protruding from right side.
Printing on image: "Advanced Systems Development Division Laboratory, IBM San Jose, California Microimage cell for the Walnut System.
Pictuired above is a prototype of a microfilm-strip storage cell similar to the molded cells that will be used in the Walnut Information Retrieval System. Each cell conbtains 50 strips of ultraviolet-sensitive, heat developed Kalfax film. Strips are 0.005 inch thick, 15 inches long, and 0.9 inch wide, and contain 200 images in four columns of 50 images each, for a total storage of 10,000 full pages of information per cell. Addressed by punched IBM photocards, which serve as the output
vehicle, the System will provide immediate access to any of the two million document pages contained in the two hundred cells making up a module of the File. The photocards may be viewed for simple reference, or hard copies may be made on commercially available printers.
Verso: Red stamp: "Date 1/18/60 Negative No 2377-2; Title Copy of poster ; Project or Department No 924
Authorized by Larry Janofsky IBM Research Department No 508 "
Category
Photograph
Credit
Courtesy of Gwen Bell