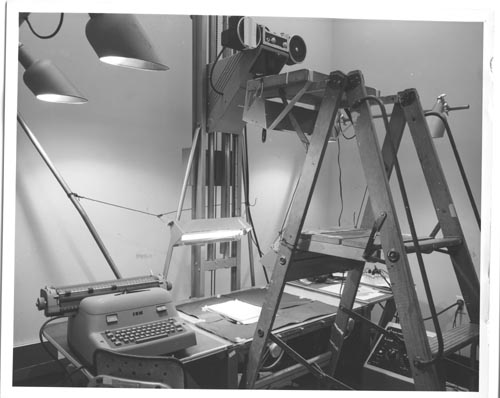 Title
IBM-Walnut-Microfilm Setup
Description
B&W image of Walnut microfilm setup. Shows IBM typewriter on left. A lamp is mounted on step ladder. A camera is mounted on moveable mechanism. The document to be captured is on gable under camera. To right are some cocuments and power supply.
in the two hopper feeds and cards in the punch
Verso: Red stamp: "Date 2/23/60 Negative No 2425; Title Microfilm-Blacklight set-up ; Project or Department No 946
Authorized by Marcel Vogel IBM Research Department No 508 "
Date
1960-02-23
Publisher
International Business Machines Corporation (IBM)
Place of Publication
San Jose, CA
Dimensions
overall: 8 in x 10 in
Category
Photograph
Credit
Courtesy of Gwen Bell