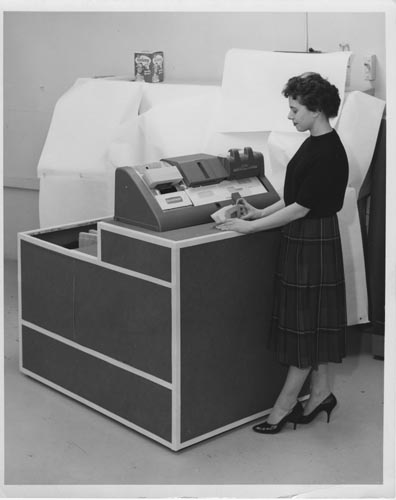 Title
IBM-Walnut-Keypunch (Mockup)
Description
B&W image of Walnut Keypunch. Shows keypunch mounted in a large box with only the keypunching mechanish showing. There are photocards
in the two hopper feeds and cards in the punch. A woman is standing in front of the keypunch holding some photocards.
Verso: Red stamp: "Date 3/17/60 Negative No 2452; Title Walnut File (Mock-up) ; Project or Department No 939
Authorized by Austin Higginson IBM Research Department No 508 "
Date
1960-03-17
Publisher
International Business Machines Corporation (IBM)
Place of Publication
San Jose, CA
Dimensions
overall: 8 in x 10 in
Category
Photograph
Credit
Courtesy of Gwen Bell