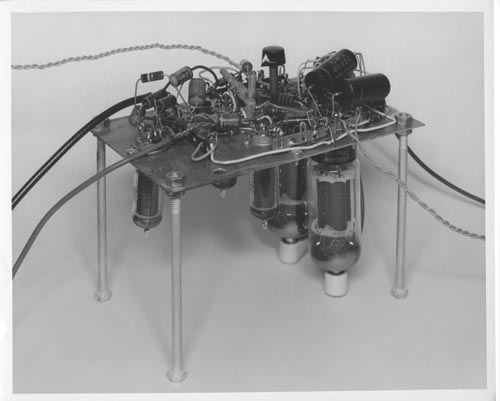 Title
IBM-Walnut-Write Amplifier
Description
B&W image of Walnut Amplifier. Close up view showing a test setup of amplifier. The components are mounted on a metal plate with long bolts acting as legs. There are 4 vacuum tubes on lunderside of amplifier with capacitors, resistors connected to strips or directly to tube socket connections. There are wires leadin out of the image and an adjustment resistor with knob.
Verso: Red stamp: "Date 3/13/60 Negative No 2590 Title Push Pull Write Amplifier ; Project or Department No 943
Authorized by Ned Baxter IBM Research Department No "
Date
1960-03-17
Publisher
International Business Machines Corporation (IBM)
Place of Publication
San Jose, CA
Dimensions
overall: 8 in x 10 in
Category
Photograph
Credit
Courtesy of Gwen Bell