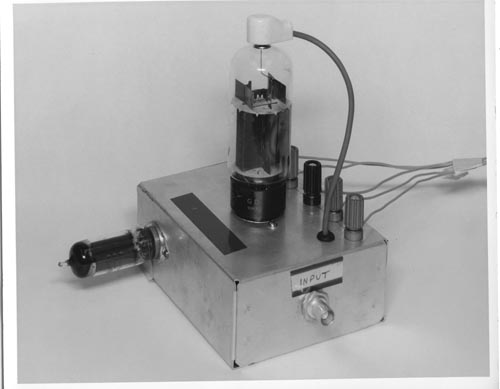 Title
IBM-Walnut-Write Amplifier
Date
1960-07-13
Publisher
International Business Machines Corporation (IBM)
Place of Publication
San Jose, CA
Dimensions
overall: 8 in x 10 in
Description
B&W image of Walnut Amplifier. Close up view showing a test setup of amplifier. The components are mounted in a metal box with two vacuum tubes . An input connector is on front side of box. 4 screw connectors are on right top of box with wires leading out of the inmage. One tube has top connector with wire runnjing into box.
Verso: Red stamp: "Date 7/13/60 Negative No 2591 Title Single Ended-Write Amplifier ; Project or Department No 943
Authorized by Ned Baxter IBM Research Department No "
Category
Photograph
Credit
Courtesy of Gwen Bell