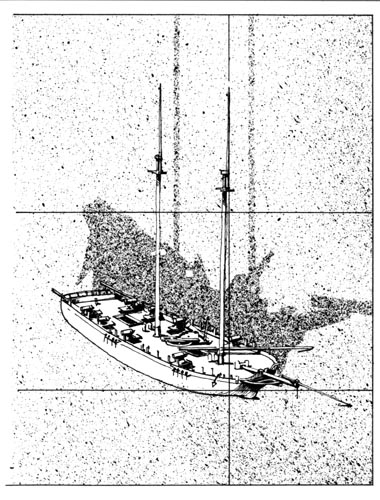 Title
Graphics - JPL Sonar image of Scooner Hamilton
Description
B&W image of display screen showing sonar Image of the wreck of the United States Navy Schooner Hamilton in Lake Ortario.
"Application of image processing technology to sonar data. This image is courtesy of the Jet Propulsion Laboratory of the California Institute of Technology. Processing of these images was performed at the Image Processing Laboratory of the the Jet Propulsion Laboratory by: Peter R. Paluzzi, JPL - currently with Sohio Petroleum; Dallas, Texas. and James M. Soha, JPL - Currently a Doctoral canddate at the California Institute of Technology,

This image was constructed from underwater side-scan sonar pulses reflected from the Hamilton, at a depth of 290 feet in Lake Ontario, to the Canadian Research Vessel LIMNOS. The reconstructed sonar image data was cleaned up in the Image Processing Laboratory using digital filtering and noise removal techniques. The resulting image was contrast enhanced. This image was produced for the National Geographic Magazine for its article on "Ghost Ships of the War of 1812", which appeared in the March 1983 issue. Verso "c National Geographic Society"
Publisher
Jet Propulsion Laboratory (JPL)
Dimensions
overall: 10 in x 8 in
Category
Photograph
Credit
Courtesy of Gwen Bell