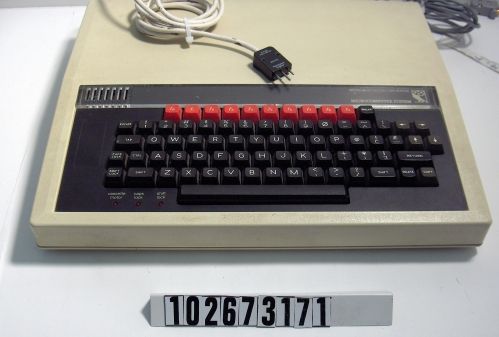 Title
BBC Microcomputer System personal computer
Description
Back connections for "analogue in", "cassette", "RS423", "RGB", "video out" and "UHF out". Underside connections "tube", "1 MHz BUS", "user port", "printer" and "disc drive". Unlabeled cable terminated in DB-1. Has unusual "BS5733" power plug with 3 in-line pins. Middle pin is longer.
Date
1981
Manufacturer
Acorn Computers, Ltd.
Place Manufactured
U.K.
Identifying Numbers
| | | |
| --- | --- | --- |
| Other number | 24498 | On label on inside of top cover |
| Serial number | 01-ANBOI-3007230 | On label on bottom. |
Dimensions
overall: 2 1/2 in x 16 1/4 in x 13 1/2 in
Category
Digital computer/personal computer/desktop
Curator Notes
The BBC Micro was created as a personal computer for viewers of the BBC television series "The Computer Programme." Nicknamed "The Beeb," it sold in the millions across the UK and at one point over 80% of British schools were using them. An entire generation of students learned basic computer programming on the BBC Micro.
Credit
Gift of the Lane-Smith Family