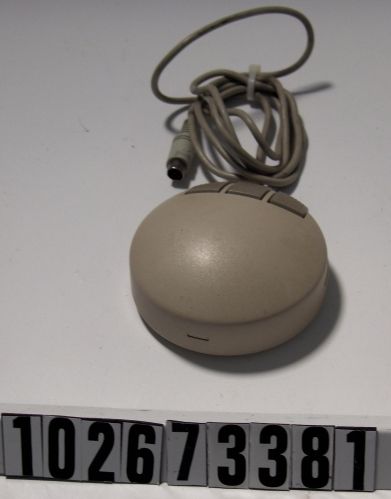 Description
Has 7 pin mini-DIN plug. Has two plastic buttons on underside which appear to be for motion sensing. Also has two slits on underside for reasons unknown. Has notation "HAWLEY" imprinted as a segment of a circle with a logo that appears to be a stylized mouse head.
Date
ca. 1990
Manufacturer
Digital Equipment Corporation (DEC)
Place Manufactured
U.S.
Identifying Numbers
Model number
VSXXX-AA.C03
Other number
B012200828
On barcode label on underside
Other number
DBP 1046/84
On underside.
Dimensions
overall: 1 1/2 in x 3 1/2 in x 3 1/2 in
Category
I/O/pointing/mouse
Credit
Gift of George Scott