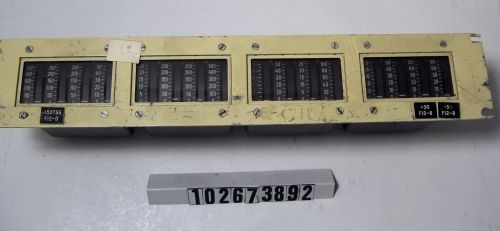 Title
MIT TX-2 meter panel
Date
1958 ca.
Manufacturer
Massachusetts Institute of Technology (MIT)
Place Manufactured
U.S.
Dimensions
overall: 3 1/2 in x 19 in x 5 1/4 in
Description
Object is a panel bearing 16 vertical-reading voltmeters in four groups of four. The meters have a variety of scales, some read to 250 or 500, others to 10 or 50. A paper label reads "12". Some engraved labels remain to indicate what each meter was to monitor, e.g. "+30" under a meter with a scale from 0-50. One label is loose. Another label probably from this object was found loose, bagged and attached.
Category
I/O/console / panel